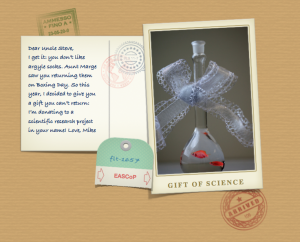 Let's be honest: Uncle Steve is going to return those argyle socks. And yes, Aunt Marge loves your hand-knitted sweaters, but still, don't you think 37 is a little overboard for someone who lives in Florida?
 This year, why not show your family and friends how much you really care by giving a gift that will keep on giving?! By donating to a crowd-funded research project in a loved one's name, you can give a meaningful gift that even Uncle Steve can't won't want to return.
 Visit Microryza.com/EASCoP to donate and we will send you an e-card from a design you choose above.
Once you have donated, you can send us an email to info@chenglab.com to customize your message and the name of intended recipient.